印尼 Indonesian
text/ photography: Lazy Susan
Lazy Susan is a platform connecting community, research, culture, and creativity through food.
Website:
www.onlazysusan.com
Instagram:
@onlazysusan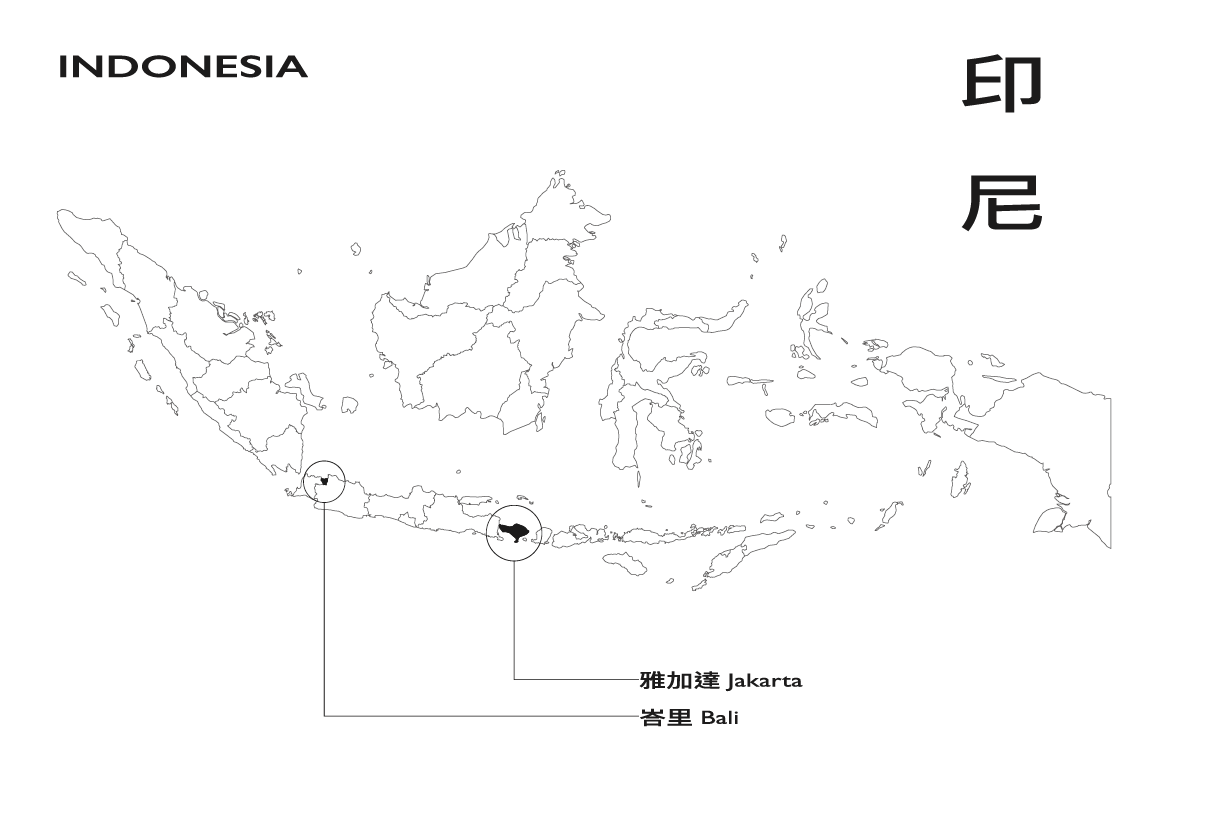 一窺印尼米糕的多樣性:糯米雞和椰絲球
透過米糕背後的故事,了解印尼多元的烹飪文化


印尼料理十分豐富,從其飲食文化可以看到世界各地的影響:受荷蘭影響的香料蛋糕、受葡萄牙影響的油炸餡餅,內餡是碎魚肉,還有受中國影響的美味麵食。儘管印尼人以愛吃飯聞名,米飯卻不受外國影響。全印尼有數千種米飯料理,甚至有個著名的說法——不吃飯就不會有飽足感,或根本不算有吃東西。

印尼的傳統米糕及其各地的米糕並不一樣,但加查馬達大學著名的食品科學與科技教授,有「印尼飲食文化的行走百科全書」之稱的穆迪雅蒂.加德吉托(Murdijati Gardjito)曾說,其實數百種米糕中,大部分是一樣的,只是不同語言和方言的發音不同。無論是文化涵化還是口味同化,這些含碳水化合物的點心已經伴隨我們很長一段時間。從重要儀式的必備米飯,隨時可吃的輕食,到現代的創新料理,不論鹹甜,都能追溯到我們的根源。


Lemper and Klepon, a peek into the diversity of Indonesian rice balls
A short dive into Indonesia's culinary diversity through the stories behind rice balls.

Indonesia is a lot of things. Influence from different parts of the world can be seen throughout its food culture, from a spiced cake influenced by the Netherlands, doughy fried pocket filled with shredded fish influenced by the Portuguese to a wonderful selection of noodle dishes influenced by the Chinese - though being known for its love for rice is not one of them. Thousands of rice dishes are found across the nation, there's even an infamous saying that if one does not eat rice then one does not feel full or considered as not eating.

Indonesia's very own version of rice balls and all its variety across the land varies, but what Murdijati Gardjito, a well-known professor of Food Science and Technology at Gadjah Mada University and also a walking encyclopedia of Indonesian food culture, once said that out of hundreds of them, most are the same, just pronounced differently in different languages and dialects. Whether as an effect of acculturation or the assimilation of taste, these carbohydrate-packed snacks have been with us for a long period of time. From important cultural ceremonies to light bites throughout the day, innovations such as modern-day interpretations eventually start popping around, offering us sweet to savoury flavours that can still be traced back to our roots.
生命之種子——米飯

「任何事情都可以推遲,只有吃飯不行。」

稻米和糯米是爪哇人生活中的重要作物,且爪哇人十分信奉生育女神 Dewi Sri。種植糯米一定要經過傳統爪哇儀式,即 wiwitan,農夫和他們的家人會向女神禱告,取回他們收穫的第一粒米,再吃薑黃飯(tumpeng),黃色米飯會堆成山形,周圍放著各種配料。農作物即將開花結果時,就叫作「parine wis tani」,意思是稻米已經醒來了。

對印尼人而言,稻米和糯米非常重要,不只爪哇人有 Dewi Sri 的神話,巴塔克人、托拉查人也有,甚至流傳到婆羅洲,只是用語不同而已。在爪哇,生育女神有三個主要的名字。在東爪哇,她叫作 Sri Sadono,在中爪哇叫作 Dewi Sri,在西爪哇則叫作 Sari Pohaci。就算名字不同,全島都有愛惜稻米或糯米的神話,因為爪哇人認為稻米讓人類能夠活下去,人們每天都需要稻米以滿足生活中的需求。




Rice as seed of life "While others can be postponed, food cannot."

Rice and glutinous rice are plants of the Javanese life, having a strong belief in the myth of Dewi Sri as the goddess of fertility. The process of planting sticky rice goes through a mandatory traditional Javanese ceremony known as wiwitan, where farmers and their families would pray and retrieve their first grain of harvest then end the procession by feasting on tumpeng, a rice dish surrounded by a variety of toppings circling a mountain of yellow cone-shaped rice. When the plant is about to bear fruit, it is called "parine wis tani" , meaning that the rice has woken up.

Rice and sticky rice are so important for Indonesians because the myth of Dewi Sri is not only in Java but also for Batak people, Toraja people, even in Kalimantan, only derived with different terms. In Java, there are three main names. In East Java she is called Sri Sadono, in Central Java Dewi Sri, and in West Java it is called Sari Pohaci. Even so, the point is that the whole island has this myth to respect rice or sticky rice, because they consider rice as an ingredient that makes human life possible. People need it every day for the necessities of life.
印尼米糕中的文化涵化

回顧糕點的歷史,西班牙是第一個引進糕點的國家,也是第一個被穆斯林統治者征服的國家。一直到14世紀,歐洲各界人士才終於可以享用糕點。19世紀,隨著製作技術的進步,糕點開始大規模生產。現今,糕點成為歐洲各個慶典活動的必吃點心。荷蘭殖民印尼時首次引進糕點,第一個引進的乾糕點是鳳梨酥(nastar)。原本鳳梨酥的餡料不是鳳梨,而是藍莓。但因為藍莓在印尼不易取得,後來才改用鳳梨。從那時起,開齋節的典型小吃不再是西米、米粉或糯米,而是各式各樣的糕點。

從印尼的各種米糕也看得出食物的文化涵化。其中,最普遍的就是中國的影響。「Kue」這個詞來自福建語的「koé」,代表中國烹飪對印尼的影響,有些 kue 確實源自中國。雖然大部分糕點是傳統印尼食品,千層糕(lapis legit)、炸春捲(risoles)、咖哩餃(pastel)和薄煎餅(panekuk)等其他糕點則受到歐洲的影響,即荷蘭和葡萄牙。

一開始,kue 一詞是指中國的傳統糕點和娘惹糕(peranakan kue),然而在現代印尼,這個詞已成為各種糕點的總稱,包括(但不限於)乾糕點、酥皮點心、餡餅或海綿蛋糕(bolu)。杯子蛋糕(kue mangkok)是其中一個例子,其受到印尼華人的極大影響。杯子蛋糕是由米粉製成,經常用於儀式,外觀以顏色豐富著稱,有紅色、綠色、白色或棕色。另一個例子是粽子(bakcang)。一大顆球狀的米飯或糯米,裡面塞滿肉,有時加一顆雞蛋,並用香蕉葉包裹著。除了鹹的,還有甜點版本,叫作鹼粽(kicang),搭配咖椰醬(srikaya)或黑糖漿一起食用。




The presence of acculturation in Indonesian rice balls

To start off way back, pastries were introduced for the first time in Spain, knowing that said country was the first to be conquered by Muslim rulers. Until the 14th century, pastries can finally be enjoyed by all circles in Europe. In the 19th century, pastries began to be mass produced along with technological advances in cake making. Now, pastries are mandatory snacks in every celebration in Europe. Pastries were introduced in Indonesia for the first time by the Dutch during the colonial period. The first kue kering that was introduced was nastar. Initially, the nastar filling was not pineapple but blueberries. However, because blueberries are hard to find in Indonesia, they are finally replaced with pineapples. Since then, the typical snacks for Lebaran are no longer sago, rice flour, or sticky rice, but kue kering, which now have many variants.

The effects of acculturation in food can also be seen in the many varieties of Indonesian rice balls. One case that is most prevalent is the influence of the Chinese. The word "kue" comes from an absorption word from the Hokkien language: "koé". This shows the influence of Chinese cooking in the archipelago, as some kue do show their origins from China. As most of the kue are purely traditional Indonesian, some other cakes such as lapis legit, risoles, pastel and panekuk show European influences, namely Dutch and Portuguese.

Initially the term kue mainly referred to traditional Chinese and peranakan kue, however in modern days in Indonesia, this term has expanded to become an umbrella term for various types of cakes, including (but not limited to) kue kering, pastries, tart or bolu (sponge cake). Kue mangkok is one of the examples in which it is heavily influenced by the Chinese ethnic group in Indonesia. Using rice flour, it is often used for ritual purposes and its appearance is renowned to be colourful, adopting the colours red, green, white or brown. Meanwhile, bakcang is another thing. A big ball of rice or glutinous rice that is stuffed with meat and sometimes an egg, wrapped in banana leaf. However, there is also a dessert version known as kicang that is served with srikaya or brown sugar syrup.


印尼米糕

說到印尼米糕,我們必須先釐清印尼米糕到底是什麼。印尼米糕包括各種甜點和鹹點,且都是由稻米和糯米製成。在爪哇,米糕大多被稱為 jajan pasar 的一部分,而 jajan pasar 通常是指在市場販賣的傳統爪哇糕點。

大多數的市場小吃(jajan pasar)由四種基本原料製成,即米粉、糯米粉、椰子和椰糖,這四種原料構成了印尼小吃市場。印尼共有 1200 多種食物,而這些原料製成的小吃約佔全市場的 30%。市場小吃可以從形狀、內餡和調味料來區分。例如,用糯米做成的小吃,內餡可能有椰蓉,並用糖、糯米及椰蓉調味。還有一種鹹點是用糯米加椰蓉製成,再用炸椰絲(serundeng)調味並烤製。

糕點可分為兩大類:濕糕點(kue basah)和乾糕點(kue kering)。此外,根據穆迪雅蒂教授的說法,市場小吃中,濕糕點比乾糕點多,而且濕糕點以其又甜又豐富的味道而聞名。



Indonesian rice balls

When talking about rice balls - namely Indonesian rice balls - we must understand a few things first as it might lead to confusion as to what it actually refers to. In this case, it will cover any type of sweet and savoury snacks that are made from rice as well as glutinous rice. In Java, rice ball snacks are mostly known to be part of jajan pasar which is a term often used to refer to traditional Javanese cakes sold in markets.

Most market snacks or jajan pasar are generally made of 4 basic ingredients, namely between rice flour and/or glutinous rice flour, accompanied by coconut and coconut sugar, which make up the 4 ingredients that make up the Indonesian snack market. With a total of more than 1200 types of food, Indonesia accommodates snacks made from these ingredients for approximately 30% of the total jajan pasar. What distinguishes all of them is averagely from the shape, the combination of contents, and the seasoning. For example, using glutinous rice, the contents can include until or grated coconut, then seasoned with sugar or sticky rice and grated coconut. There's also sticky rice with grated coconut which is roasted with serundeng seasoning, making it a savoury snack.

These snacks can be classified into two main categories, kue basah (wet cake) and kue kering (dried cake). Additionally, according to Murdijati, there are more kue basah than kue kering in jajan pasar, and that kue basah is known for its sweet and rich taste.

濕糕點 Kue Basah

一般來說,全印尼有1200-1300 種糕點(kue)。 其中有 80%是濕糕點,而且大多數是甜的。因此,如果你想要比較甜點,記得甜點的數量比鹹點還多。濕糕點通常質地較軟,保存期限只有短短幾天。因為一般的傳統糕點是由米粉、糖和椰奶製成,所以很快就會變質。濕糕點的做法通常是蒸、煮或炸。

In general, there are 1200-1300 types of kue throughout indonesia. 80% of cakes are wet, and the majority is sweet. So if you want to compare the sweet-tasting snacks, the amount is greater than salty snacks. Kue basah (or wet cakes) are generally soft in texture and don't last very long (only a few days or less). This is because generally traditional cakes are made from rice flour, sugar, and coconut milk, so they get stale quickly. Wet cakes are usually cooked by steaming, boiling, or frying.
乾糕點 Kue Kering

另一方面,乾糕點的水分含量少,因此保存期限比濕糕點更長。不過現在乾糕點更常被歸類為餅乾,通常在開齋節(Lebaran)或聖誕節慶祝活動時供應。這並不代表乾糕點的種類很少。像蜂窩餅(kembang goyang,大部分用糯米粉製作,有些是用米粉),每個地區有不同的名稱。濕糕點有較多種類,主要是因為製作過程較快,不必等待,而乾糕點或其他點心必須經過油炸或烘烤來製作,以避免燒焦。

On the other hand, kue kering is a type of jajan with minimal moisture content, so they can be stored longer than wet cakes. Kue kering are now more categorized as cakes that are baked the same as cookies. Pastries are usually popular served at the time of Lebaran (Eid al-Fitr) or Christmas celebrations. This doesn't mean there is a small amount of kue kering varieties. For example, kembang goyang (which is widely made from glutinous rice flour, some are made from rice flour) and have different names in each region. The main reason why there are more choices of wet snacks is because they can be processed quicker and don't have to be waited on, while mainly dry snacks or kue kering must be made with extra precaution by frying or baking so it doesn't get burnt.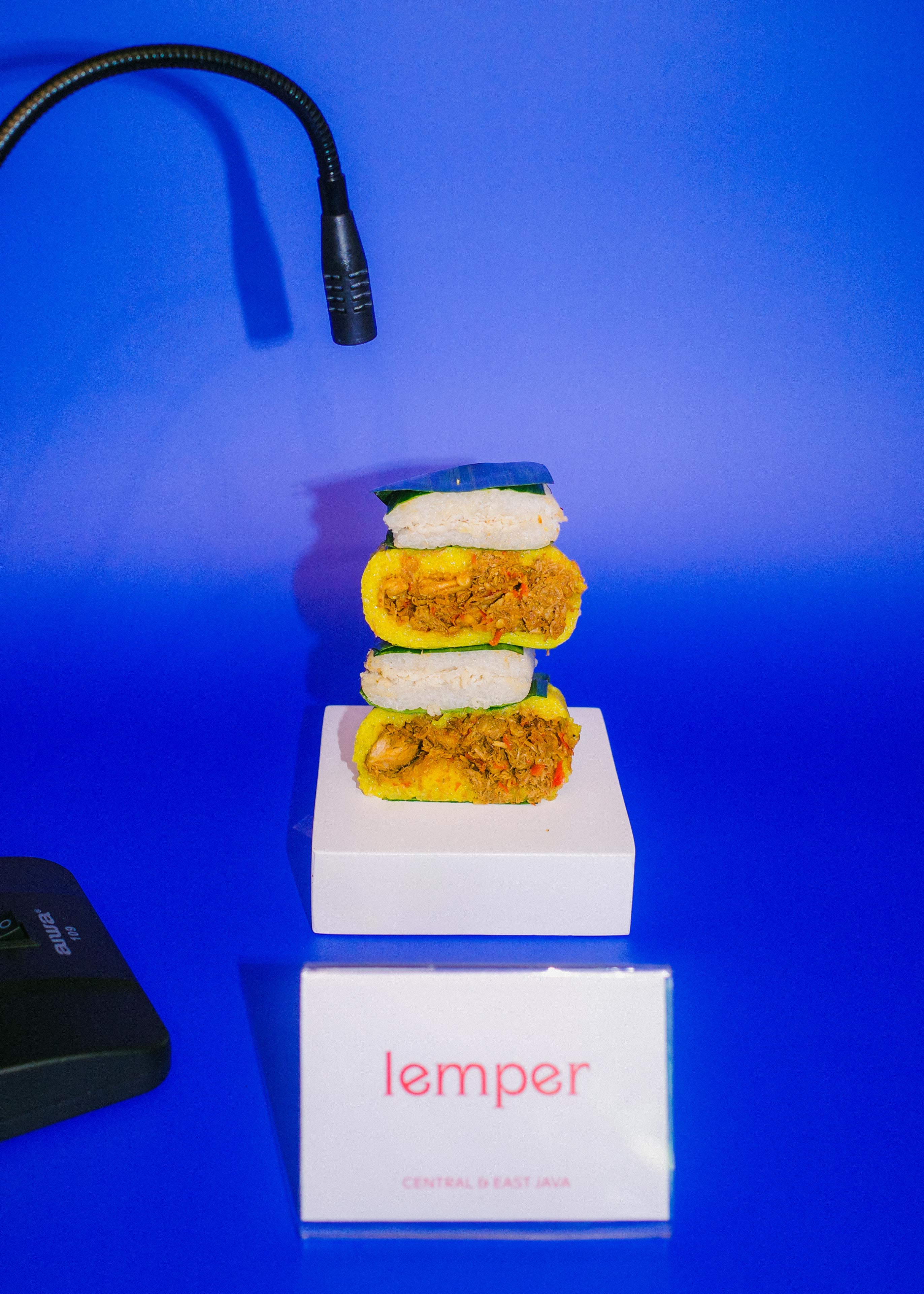 印尼米糕之普及
The popularity of Indonesian rice balls

根據我們的調查,大多數受訪者提到米糕是他們最喜歡的市場小吃,例如糯米雞和椰絲球。糯米雞是用糯米做成的鹹米糕,米糕裡包著調味過的雞肉、魚肉或炸椰絲,再用香蕉葉包裹著。椰絲球則是由糯米製成的甜米糕,裡面包著融化的棕櫚糖,外層沾滿椰蓉。

According to our survey, most of the respondents mentioned rice balls that are part of jajan pasar as their favourite rice balls such as: lemper and klepon. Lemper is a savoury rice ball made from glutinous rice, filled with seasoned chicken, fish, or serundeng and wrapped in banana leaves. Meanwhile, klepon is a sweet rice ball made from glutinous rice that is filled with molten palm sugar and coated in grated coconut.
糯米雞 Lemper

時至今日,還沒有明確的證據指出糯米雞源自哪裡。然而,大部分資料顯示,lemper這個詞來自「yen dilem, ojo memper」的縮寫,字面意思是「bila disanjung, jangan takabur」,即「別人誇你時,一定要謙虛」。

Until today, there is no specific evidence where lemper came from. However, most sources say that the word lemper came from the abbreviation of "yen dilem, ojo memper" which literally means "bila disanjung, jangan takabur" or when feeling flattered, don't be arrogant.

糯米雞通常作為婚禮等社交活動的點心,特別是在爪哇。然而,在某些特殊場合,糯米雞是神聖的食物,例如班圖爾普雷特區的沃諾克洛莫村,在色法爾月最後一個星期三舉行的 Rebo Pungkasan 儀式。在整列遊行隊伍中,長達2.5公尺、直徑0.5公尺的巨大糯米雞是全場焦點。大糯米雞裡有數千個小糯米雞,每個小糯米雞都包在用來曬米的編織袋中,外層再覆蓋著打開的香蕉葉。在這個傳統儀式中,糯米雞隱喻著人類。整個儀式的核心意義可以詮釋為:「如果你想上天堂,就必須扔掉香蕉葉,以擺脫罪孽,到達人類生命的核心(糯米雞的內餡)」。巨大糯米雞也是個象徵,用來紀念拯救社區免受疫情(pageblug)襲擊的英雄。接著,先前製作的糯米雞也會一起接受禱告。由於糯米的黏牙口感,糯米雞有強大連結的象徵。在儀式上分送糯米雞,有希望拉近賓客之間關係的含義。

道地的糯米雞在蒸熟後會用油膩的香蕉葉包著。香蕉葉不僅能防止水蒸氣跑掉,還賦予這道小吃獨特、誘人的香氣。道地的糯米雞也會用煮熟的糯米,並用椰奶和鹽調味,填入絞肉後再用一種叫作 kapuratu 的鹹醬料調味。可惜的是,由於製作過程耗時,且需要使用的香料很多,現在很少用 kapuratu 調味了。隨著時光流逝,人們開發出新的糯米雞,如切片糯米雞、烤糯米雞、炸糯米雞,甚至沒蒸過的糯米雞。就餡料而言,傳統的糯米雞通常會包椰子,如今有各種餡料,像牛肉鬆、碎牛肉等。現在也不一定會用香蕉葉包裹糯米雞,而是用塑膠袋。不過,糯米雞的原料仍是糯米,這點並沒有改變。


Lemper can normally be found as a treat for social events such as wedding celebrations, especially in Java. However, for one specific special occasion, it becomes something sacred for The Rebo Pungkasan ceremony held in Wonokromo Village, Pleret District, Bantul Regency. During the procession, a giant lemper with a length of 2.5 meters and a diameter of 0.5 meters becomes the main focus. This giant lemper contains thousands of small lemper wrapped in braid of padding that's been used for drying rice, covered with open banana peel leaves. In this traditional ceremony, the lemper is a metaphor for human beings.The core meaning of all of this is interpreted as a saying, "If you want to go to heaven, you must throw away your sins by throwing away the banana leaf skin to the core of human life (the contents of lemper)". The giant lemper is also a symbol to remember the kindness of the people who are considered heroes in saving the community from the pageblug or epidemic that hit the area. The lemper that had been made earlier will then be given prayers together. It is said that lemper is a symbol of a strong bond. By presenting lemper, it is hoped that the relationship between the guests can be closer. This meaning is likened to the sticky texture produced by sticky rice.


The correct type of lemper comes inside a greasy banana leaf after being steamed. The banana leaf itself prevents the steam from leaking, while giving it a unique, specific, and delightful aroma. The correct lemper also uses boiled glutinous rice, seasoned with coconut milk and salt, then filled with minced meat which is seasoned with a savoury seasoning called kapuratu. Unfortunately today, the kapuratu seasoning has become rare due to the numerous spices used and the time consuming process. As time goes by, innovations have emerged and people have developed newer versions of lemper; such as sliced lemper, grilled lemper, fried lemper, even un-steamed lemper. For the filling itself, the traditional lemper which normally uses coconut in the filling mixture, today there are various fillings such as beef floss, ground beef, and so on. There are also ones that use plastic to wrap it instead. However, some things don't change and the sticky rice-based lemper still sticks around.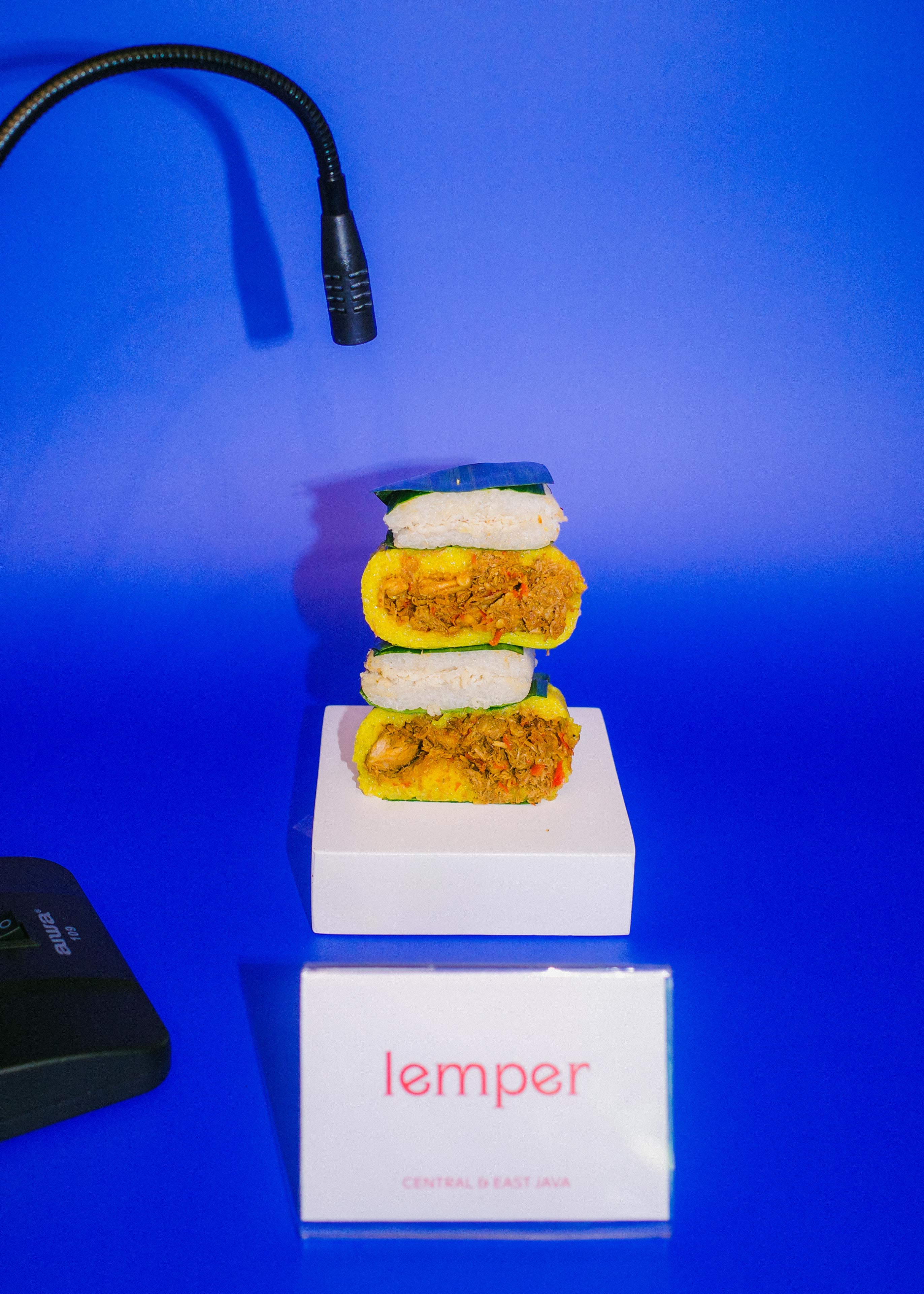 椰絲球 Klepon

根據 Taste Atlas,椰絲球,也就是甜米糕,其起源通常與爪哇有關。迪亞・寧普諾
(Diah Nimpuno)於2016年出版的《Nostalgia Kue Tenong》一書中,提到椰絲球很有嚼勁,且咀嚼後能嚐到棕櫚糖的甜味,可以解釋為苦盡甘來。

According to Taste Atlas, the origin of klepon - sweet rice balls - is typically associated with Java. In a book written by Diah Nimpuno, "Nostalgia Kue Tenong" (2016), the chewy texture in klepon followed by a sweet bursting taste of molten palm sugar as it is chewed can be interpreted as hardship will eventually taste sweet.

椰絲球原本是傳統小吃,但並不全是為了儀式和婚禮場合。椰絲球也被當作點心,像糯米雞和炸香蕉一樣,或是和多達40種市場小吃一起擺在竹篩(tampah)上,在婆羅洲,這種市場小吃的組合稱為wadai 41(wadai為「糕」的班查語),因為有41種糕點。在爪哇,椰絲球和木薯椰絲糕(getuk)、木薯椰絲軟糕(cenil)常作為上午或下午的點心。這些點心屬於濕糕點,是爪哇傳統市場小吃的一部分。

椰絲球是糯米類小吃一個很好的例子,其由糯米粉和水、少量鹽、蘇吉葉混合製成,中間包著固狀椰糖,再搓成彈珠大小的球狀。之後放進沸水中煮,糖就會融化,並在中心形成甜甜的糖漿。剛開始煮的時候,椰絲球會下沉,煮好後就會浮起來。食用時外層會沾滿椰蓉。

關於椰絲球,有個小趣聞:在印尼的其他地區,如蘇拉威西島、蘇門答臘島,以及鄰近的馬來西亞,椰絲球叫作「onde-onde」,或是「buah Melaka」(意思是麻六甲的水果)。在馬都拉島,椰絲球則被稱為「kelelepon」。簡而言之,糯米在印尼的廣泛使用導致各地都有不同名字。


Klepon was invented naturally as a traditional snack but not all for rituals and weddings. Like lemper and fried bananas, klepon is served as a treat. To serve, it can also be combined in 1 tampah (winnowing tray), consisting of up to 40 kinds of jajan pasar. The combination of this jajan pasar in Kalimantan is called wadai 41 because there are indeed 41 kinds. In Java alone, klepon, along with getuk and cenil, is often eaten as a morning or afternoon snack. They are categorized as wet cakes, and are part of the traditional Javanese jajan pasar.

Klepon is one great example of food that is made from glutinous rice flour mixed with water, a little salt, suji leaves, filled with solid coconut sugar in the center, then kneaded and made into balls the size of marbles. It is then boiled - hence melting the sugar and creating a sweet sugary liquid on its core. It will sink at first, but will float once it's cooked, this is what is called klepon. Served rolled up on grated coconut.

A little fun fact about klepon, in other parts of Indonesia, such as in Sulawesi, Sumatra and in neighboring Malaysia, klepon is known as onde-onde or in some areas, 'buah Melaka' (fruit of Malacca). Meanwhile, in Madura it is called kelelepon. In short, the widespread use of sticky rice in Indonesia causes each to have its own name.


哪裡買得到? Where to buy?

我們已經得知糯米雞和椰絲球是最受歡迎的米糕,那我們可以在哪裡買到呢?受訪者表示,雖然在現代商店和傳統市場都買得到,仍有很多人依賴傳統市場。有些販賣當地米糕的現代商店已經營業很長一段時間,讓消費者在繁忙的大都市也能容易買到。像 Monami Bakery、Toko Kue Vivi、Kantin RSPI(某間醫院內的著名自助餐廳),都是當地人(尤其是雅加達人)熟悉的店。然而,印尼各地的傳統市場一直是我們最喜愛的各種小吃之集散地。從早上4點到晚上7點,依據市場的營業時間,你總能找到你愛吃的米糕,而且都是剛做好的。

Now that we know which rice balls are most-favoured, where can we buy them? The answers from our respondents show that while there is a mix of both modern shop purchases and traditional markets, there is still a large audience who still rely on traditional markets. A number of modern shops which sell jajan pasar that consists of local rice balls have been popping up for a long while, giving the consumers easier access in bigger and busier cities. Names like Monami Bakery, Toko Kue Vivi, to Kantin RSPI which is a famous cafeteria inside a hospital, these are only some of the shops that are familiar to the local's - especially Jakartans - ears. However, traditional markets around Indonesia have been, and will always be the epicenter of our most beloved snacks in all shapes and sizes. From 4 AM - 7 PM, depending on the market's opening hours, you will always be able to find your favourite rice ball in the freshest form.


我們有幸訪談兩位賣家,一個是在傳統市場擺攤的一對母女,即峇里島烏布的 Jajan Pasar Keluarga Gusti Nyoman Sriani & Gusti Ayu Dewi,她們賣印尼糯米小吃已經賣了28年。另一個是已經營25年的老店,位於峇里島丹帕沙的 Juwita Supermarket and Bakery。這間店原本是賣衣服的,但看到峇里島人常常需要傳統小吃來進行宗教儀式,就把握機會改做新生意,同時提醒年輕一代保留傳統的好滋味。

兩位賣家都表示,他們的顧客大部分是老年人,但還是有少數年輕顧客。我們覺得原因是人們在幾年前才開始對傳統料理感興趣,尤其是年輕人。這些賣家和許多人一樣,在疫情期間的生意很差,而後者運用現代必備的科技,如社群媒體和線上訂餐服務,讓店面能夠持續經營下去。Juwita Supermarket and Bakery 也像其他麵包店一樣,販賣更多流行食品和其他商品,但顧客必須預購才拿得到商品。這家店把現代小吃當作創新,而不是對傳統的威脅,因為認為每種小吃(jajan)都有自己的特色和獨特之處,「傳統和現代小吃讓彼此更完整」。

雖然這兩家店都賣傳統小吃,而且老顧客居多,但兩家店的暢銷品不一樣。在烏布,人們大多購買椰香捲(dadar gulung)、傳統煎餅(lak-lak)、黑糯米布丁(ketan item)、地瓜圓(biji salak)和三角椰絲糯米糕(jaje lukis),這些小吃都是當地人熟知的。而在丹帕沙,店家大部分都賣馬來西亞椰絲球(onde-onde),一種由糯米粉製成並沾滿芝麻的圓形小吃。無論是否因為小吃的多樣性才有這種情形,在每家店看到不同的消費習慣確實很有趣。


We got a chance to speak to 2 different sellers, one is a stall owned by a mother and a daughter in a traditional market that has been selling indonesian rice snacks for 28 years, Jajan Pasar Keluarga Gusti Nyoman Sriani & Gusti Ayu Dewi in Ubud, Bali. While the other one is an established shop that has been running for 25 years, Juwita Supermarket and Bakery in Denpasar, Bali. Originally they sold clothes but they see that Balinese people - most of the time - need traditional snacks for religious ceremonies, they saw this as an opportunity for them to start a new business and at the same time to remind the younger generations about their tradition, preserving what they have.

Both establishments stated that the majority of their customers are older ones even though there are still a handful of younger customers. How we see it is because the attraction towards traditional food, among the younger generation specifically, in general, has only started a few years back. These sellers, like many, have had a tough time in their businesses during the pandemic, while the latter uses modern technology such as social media and online delivery services - which has become more of a necessity - as an extra effort to survive. Juwita Supermarket and Bakery also sells a more trendy food and other goods just as any other bakeries, but you have to pre-order it first in order to get yours, they see modern snacks as an innovation rather than a thread to tradition because they believe that every jajan has its own characteristics and unique in its own way, "They - traditional and modern jajan - kind of complete each other".

While both sell traditional snacks and have a majority of older customers, the best seller in each shop varies. In Ubud, people mostly buy dadar gulung, lak-lak, ketan item, biji salak and jaje lukis, these snacks are well known to locals. In Denpasar, however, we can see that the shop mostly sells onde-onde, a round-shaped snack made from glutinous rice flour rolled in sesame seed. Whether it's due to its diversity, it sure is fascinating to see the different consumption habits in each shop.


現今人們仍然依賴傳統市場,有兩個可能的原因。第一個原因是價格。根據我們的研究,69%的消費者支付的價格低於 10000 印尼盾(約新台幣20元),或大約 70 美分,而其餘的人則支付11000-30000(約新台幣21至60元)印尼盾以上。當然,不同地區的價格不一樣,但即使在印尼首都雅加達,尤其是在傳統市場,一份點心的價格也不應該超過 6000 印尼盾 (約新台幣12元)。在商店裡買一整盒點心大約需要 80000 印尼盾(約新台幣 157 元),而在雅加達的傳統市場,同樣價格可以買到三盒。在日惹的市場,一份米糕的售價大約是 2000 印尼盾(約新台幣4元)。


第二個原因是熟悉和道地的味道。像這些歷史悠久的食物都是人們所熟悉的。現代商店提供的食物「更乾淨」,陳列架上的食品除了包著香蕉葉,還會再用塑膠袋包裝。傳統市場則在戶外,每個攤位緊鄰彼此,各類小吃呈現出各種顏色,令人感到興奮和懷舊,這就是美食帶來的喜悅。


The reason why people still rely on traditional markets is possible because of two reasons. The first one is price. According to our research, 69% of consumers pay less than Rp. 10,000 or roughly 70 cents in USD, while the rest pays Rp. 11,000 until more than Rp. 30,000. Of course different regions offer different prices, however even in the capital city of Indonesia, Jakarta, it shouldn't be more than Rp. 6,000 for a piece of snack especially in traditional markets. Buying a full box of treats in the stores could cost roughly Rp. 80,000, while in traditional markets in Jakarta, you would get three boxes for the same price. In the markets of Yogyakarta, until today rice balls are sold for roughly Rp. 2,000 a piece.

The second reason is familiarity and authentic taste. Long-established food like these are the type which people are familiar with. Modern shops offer a "cleaner" version of the food where they prefer to wrap it in plastic on top of the banana leaf on display racks. Whereas traditional markets sell it in open air, seated next to each other, showing an array of colours that gives you a sense of excitement and nostalgia - the type of feeling that can only come from the joy of food.